"The art of deep seeing makes gratitude possible.  And it is the art of gratitude that makes joy possible.  Isn't joy the art of God?"
-Ann Voskamp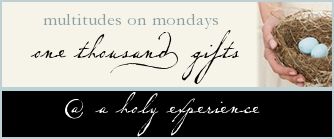 121: Finding a new park on a beautiful morning
122: Watching my child conquer her fear of falling.  Her courage and determination are inspiring to me.
123: Getting to know my adorable niece
124:  Being reminded daily by my children that life is fun.  Enjoy it.
125: The sparkles in my kids eyes when daddy cuddles with them
126:  My mom who isn't scared to hand her grand kids sprinkles
127:  My son's mischievous look that always keeps me on my toes.
128: My camera started working just long enough to snap this photo of my parents with my kids.  It stopped working again shortly after this was taken.  SOOOO thankful it was able to capture this!
129: My dad's love for me and for my kids
130: A reminder to quit worrying about what might happen and just enjoy life.