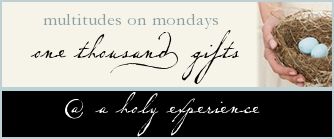 34. A little boy excited beyond words for his new bike
35. A relaxing Saturday morning spent celebrating 2 special years of life.
36. The sunshine and heat the past few days.
37. Paying off the remainder of our school loan!!!!
38. Waking up to wind and clouds creating an overcast and lazy morning
39. Watching my 3 year old work hard to overcome a bad habit and celebrating her little successes along the way.

40. Friends who love us enough to walk through hard situations with us
41. Sunburns
42. A husband who makes sure the kitchen is clean before we go to bed
43. The smell of clean sheets
44. Watching my 5 year old overcome a major fear. I will never forget the look of accomplishment she had on her face when I told her how brave she was.

45. Family days spent enjoying each other and just having fun. Most of the time its the insignificant moments during the day that bring the most joy!