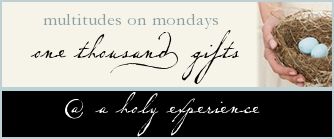 46. Quiet mornings reading the Bible where the Lord reminds me and says "You who fear the Lord, praise him!"
47. Friends who spend their Saturday helping me organize for an upcoming garage sale
48. The willingness of  a friend to watch my children so I can be free to invest in a teen mom.
49.  Opening my home to hurting parents and listening to my husband pray over them.
50. The tired feeling that comes after multiple late nights spent in prayer and ministry
51. A sister who loves me enough to call and check on me
52. Cool breezes and rain
53. Watching my daughter's face when she sees the flowers she plants bloom
54. Hearing my son apologize and then watching him show us what gentle hands are supposed to look like.
55. The giggles of four little girls as they run through the sprinklers in the back yard
56.  The hard lesson that my son had to learn over the weekend when he disobeyed.  His sad face but understanding eyes are a reminder to me that discipline is welcomed and needed even by the youngest family member.
57.  Watching a good friend's youngest child get baptized.  The joy in the child's face brought tears to my eyes.
58. Waking up to the bird's chirping.  Spring is one of my favorite seasons.
59. The opportunity to speak at MOPs last week.  I feel alive when God gives me opportunities to teach other women about Him.
60. The reminder in scripture that God "has made known to me the paths of life; you will make me full of gladness with your presence." No matter what today brings, submitting to God and walking in His presence will make me full of gladness.